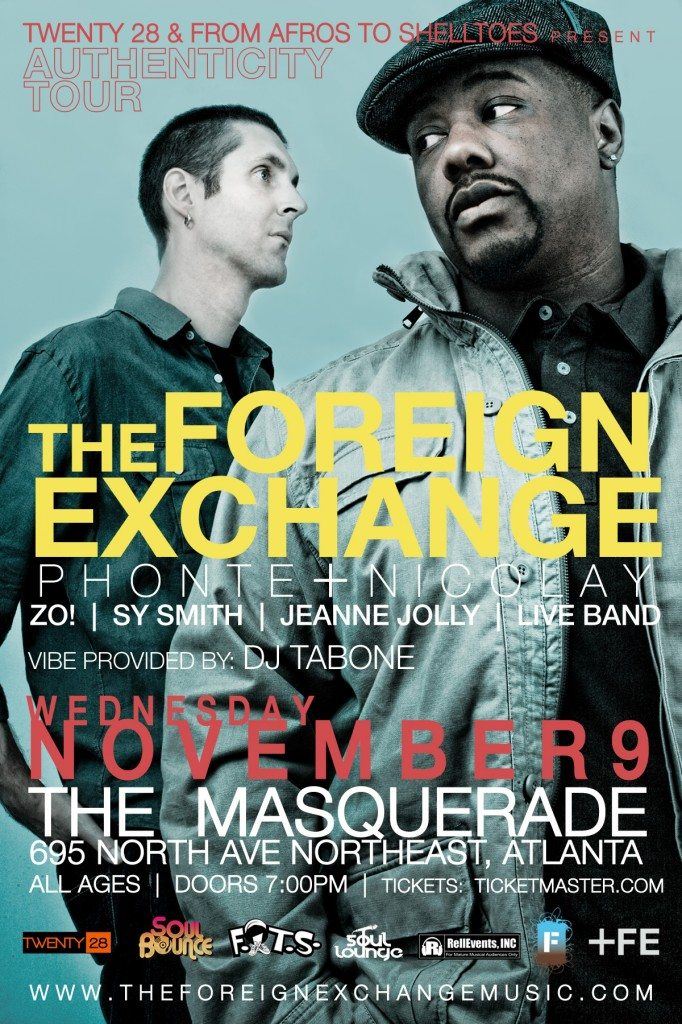 Alright concertgoers and FE fans, it's that anticipated time!!!
Time for the return of The Foreign Exchange, (Phonte + Nicolay) with Zo!, Sy Smith, Jeanne Jolly with the Authenticity Tour Wednesday, November 9th at 7pm in Atlanta at the Masquerade. If you unfortunately missed their last Masquerade appearance back in May 2010, here's some footage to wet your whistle for November 9th. And if you're not in the Atlanta area, here are the upcoming shows coming your way! Get your tickets NOW!!
Wed Nov 9, 2011:
Masquerade, Atlanta GA · TICKETS
Thu Nov 10, 2011:
The WorkPlay Theatre, Birmingham AL · TICKETS
Fri Nov 11, 2011:
B.B. King's Blues Club, Nashville TN · TICKETS
Sun Nov 13, 2011:
Zanzabar, Louisville KY · TICKETS
Mon Nov 14, 2011:
2720 Cherokee, St. Louis MO · TICKETS
Tue Nov 15, 2011:
Rumba Room, Memphis TN · TICKETS
Thu Nov 17, 2011:
The Door, Dallas TX · TICKETS
Fri Nov 18, 2011:
ND Venue, Austin TX · TICKETS
Sat Nov 19, 2011:
Fitzgerald's, Houston TX · TICKETS
Mon Nov 21, 2011:
One Eyed Jack's, New Orleans LA · TICKETS
For the latest news and show information, please visit their website or follow them on Twitter.

Hope is a music enthusiast and continual student of photography. Also known to rock out a quiet church or elevator with her current ringtone, Tom & Jerry's Uncle Paco, "Crambone".