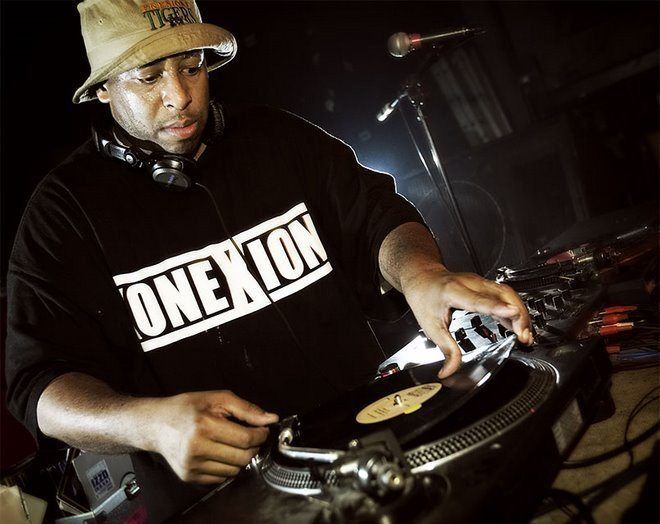 Props to the DJ Premier Blog for this one. This set was recorded before Gang Starr hit the stage live in Montreal. Good music is good music and Primo wrecks it as he always does through this Rock tribute set.
It's not often that you get to hear Primo rock like this, so enjoy. If you dig this, join us on Facebook. On any given day, you'll hear everything from Rush, to The Foreign Exchange to George Michael to Billy Idol. "But it all blends perfectly, let the liquor tell it" – (c) OutKast.
Hit the jump for the playlist & footage of Primo Rockin' Montreal more recently. Enjoy!
Live In Montreal (Rock Tribute) (2003) by Dj Premier Blog Radio on Mixcloud
Tracklist / Chapters
1) Barry White – I'm Gonna Love You Just A Little More, Baby
2) Steve Miller Band – The Joker
3) David Bowie – Fame
4) Ac/Dc – Back In Black
5) Bee Gees- Stayin' Alive
6) Nirvana – Smells Like Teen Spirit
7) Rush – Tom Sawyer
8 ) Queen – Another One Bites The Dust
9) Billy Squier – The Stroke
10) U2 – New Year's Day
11) Simple Minds – Dont You Forget About Me
12) Inxs – Come Over Here
13) Eurythmics – Sweet Dreams
14) Van Halen – Jump
15) Soft Cell – Tainted LoveBuy
16) The Clash – Rock The Casbah
17) Talking Heads – Once In A Lifetime
18) Pink Floyd – Another Brick In The Wall Pt. 2
19 ) Free – All Right Now