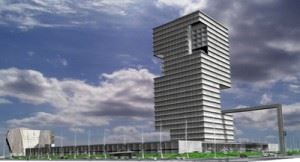 This is incredible and a tremendous opportunity for future musicians, executives and entrepreneuers.
From Eliot Van Buskirk @ Wired.com
Valencia, Spain will soon be home to a $145 million school of rock (and pop and jazz) from the Boston-based Berklee College of Music, which hopes to extend its successful contemporary music training program to European shores.
"ARTeria Valencia" will be a state-of-the-art, 25-story building (see artist's renderings) featuring faculty and student housing, a high-speed data network, a 1,000-seat outdoor amphitheater and several smaller performance spaces. Construction will be largely bankrolled by the SGAE Spanish performing rights organization, which is apparently eager to bring Berklee's approach to contemporary music education to Valencia — already a popular "semester abroad" destination.
You might think the music industry's heavily-publicized woes would scare kids into more financially stable lines of work — say, brokering stocks or managing hedge funds. Those aren't the greatest examples these days, but still, given shrinking labels and dwindling sales, the music industry seems like a hard place to get a foothold.
Nonetheless, budding musicians continue to be drawn like moths to the flame of the Berklee College of Music in Boston, where applications for Fall '09 matriculation are up 40 percent according, to Larry Monroe, the school's vice president of international programs, and popular subjects include music theory, composition, performance, music management, music education and even music therapy.  The Boston location turns out 800 graduates each year, while the Valencia location will produce smaller classes of 250.
Famous grads include Aimee Mann, Branford Marsalis, John Mayer, Bill Frisell, Juliana Hatfield and Quincy Jones. The guy who wrote music for The Simpsons and scored Ferris Beuller's Day Off went there too — Alf Clausen, class of '66. The school's more famous graduates, 58 of whom have won Grammys, have not been the only ones to turn a Berklee degree into gainful employment. According to the school's most recent survey, 80 percent of its graduates work in the music business, while 65 percent of graduates earn their livings solely from music — fairly impressive statistics, all things considered.

Monroe was about to catch a flight for Spain for various meetings about the plan when we caught up with him by telephone. "It's almost inexplicable," he said. "There doesn't seem to be any slowing down, even in these tough economic times and certainly shifting music business reality, [these] youngsters [are] intent on pursuing careers in contemporary music, so we're just grateful. I'm not quite sure what's driving it. People don't give up their dreams, I think, just because the times are tough."
He said Berklee, considered by many to be the top school in the US for players of pop, rock and jazz, has had several opportunities to expand into Japan and other countries. The Spanish government played a part in the choice of the Valencia location, as did Spanish's status as one of three major languages for music in the 21st century. One quarter of the students at the Boston location come from outside the US. At the new location, students will be recruited from around the world, with a focus on Spain, Europe, Spanish-speaking countries, Africa, and the Middle East.
"We're very conscious that in this century we're going to see an increasing drift of centralization around the languages of English, Spanish, Chinese and perhaps others, but these are going to be the huge marketplace languages, " said Monroe. Aside from speaking English, Spanish or Chinese, working musicians of tomorrow also need to develop production and business skills.
"There are no more talent scouts roaming around bistros at night looking for hot players and good songwriters anymore," explained Monroe. "You've got to really generate your own music, you have to produce something, a CD or something that you can [use to] show your ability with, and in many cases, you have to show that you have an earning power already. That's a whole different level. Most of our students are adding… a better understanding of the music business, protecting their product and so on to the usual music education."
Berklee3_2Construction has begun on Berklee's Valencia location, which will feature built-in wiring for sharing large audio and video files, floating sound stages and performance areas without the pillars and L-shaped rooms that obstruct some of the rooms in the Boston location.
This will be a private university — somewhat of a rarity in Europe, where many secondary education costs are covered by tax dollars. And it's focused on areas that the traditional European music establishment has ignored.
"There isn't a country in Europe that doesn't have great conservatories," he explained, "but what we found from doing market research is that there are an awful lot of graduating students from, say, a classical composition school, who've learned to write for symphony, chamber orchestra, ballet and so on, who want to enter the world of film music, or want to get into writing for videogames — all of the places in contemporary music where the electronic entertainment industry is lurking. And what you learn in a conservatory just isn't going to help if your first movie is a contemporary detective story and they want a funk background in the opening scene."