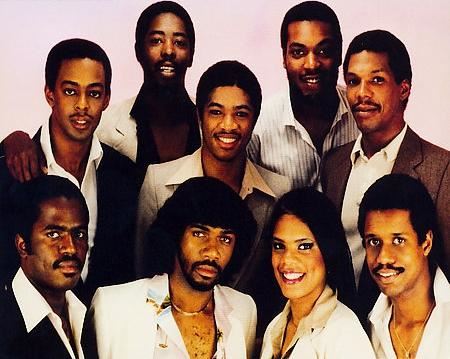 While never achieving supergroup status, Atlantic Starr was one of the most consistently successful – and underrated – soul bands of the 80s, with a basketful of memorable songs that still sound good today.
Like many groups formed in the mid-70s, Atlantic Starr was influenced by the self-contained funk bands like Earth Wind & Fire and Kool & the Gang, and the massive initial lineup, consisting of lead singer Sharon Bryant and musicians Cliff Archer, Porter Carroll, Joseph Phillips, Damon Rentie, William Sudderth and brothers Wayne, David and Jonathan Lewis, reflected the times.
The group signed with A&M Records and in 1978 released their debut, working with noted Philly guitarist Bobbi Eli. They landed an R&B hit with "Stand Up" and had some success on the Pop and Soul album charts. However, their big break came two years later when they teamed with Commodores producer James Anthony Carmichael for Radiant, a smash album that landed in the Soul top ten on the strength of the hits "When Love Calls" and the stunning ballad "Send For Me" (later remade by Gerald Alston). This began a string of hit albums and singles such as "Touch A Four Leaf Clover," "Circles" and "Freak-A-Ristic" that quietly moved the group to the top of the soul music world, though with surprisingly little crossover success.
The lack of success on the pop charts, at a time when many top soul acts were successfully crossing over, led to both personnel and stylistic changes for the band, beginning with 1985's As the Band Turns. The group membership shifted dramatically, shrinking to a quintet featuring the three Lewis brothers, Phillips and new lead singer Barbara Weathers. The new lineup scored an immediate across-the-board smash with "Secret Lovers," their biggest – and least urban sounding – single to date.
The crossover success of "Secret Lovers," for better or worse, created the template for future Atlantic Starr releases, which took on a noticeably more pop-oriented approach. The group left A&M for Warner Brothers in 1987 and landed their first pop #1 with "Always," a treacly adult contemporary wedding ballad that appeared completely severed from the group's soul/funk origins.
Weathers left the group in 1988, to be followed by a string of female leads over the next decade. In 1992, Atlantic Starr scored its last major hit with "Masterpiece," another sappy ballad penned by pop writer Kenny Nolan ("I Like Dreaming," "Penny For Your Thoughts"). That the song charted higher on the Adult Contemporary charts than on the Urban charts was indicative of where the group's music had headed in the prior half decade, and the accompanying album, Love Crazy, was commercial disappointment.
Atlantic Starr left Warner Brothers for Arista in 1994 and released Time, placing a minor pop hit with "I Remember You," another melodic, formulaic ballad. It was their last major label release. Brothers Wayne and Jonathan Lewis kept the group alive through the remainder of the 90s and into the 00s with a rotating lineup of other musicians, and became staples on the oldies circuit.
While the quality of Atlantic Starr's releases lessened as the group sought to attain wider acceptance, they will be remembered for a solid string of accessible, memorable hits that have generally held up well and that have solidified Atlantic Starr's legacy as one of the more enjoyable soul music acts of the 80s.
Bio courtesy of Chris Rizik-Soul Tracks

Ivan Orr is a multi-instrumentalist, composer, performer, and writer. A native of Charlottesville, Virginia Ivan was involved with the forming and nascent days of The Music Resource Center as its first Program Director. A graduate of Virginia Commonwealth University's Department of Music, Ivan currently resides in Richmond, VA where he maintains an active performance and production schedule while serving as the Music Editor for Grown Folks Music, a position he has held since 2010.