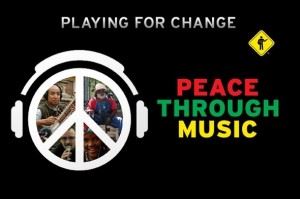 This was the first release from the award-winning documentary, Playing For Change: Peace Through Music. This is a great concept, and now a global movement that underscores the power of music.
Created by Mark Johnson, it has evolved into a corporation, Timeless Media, a non-profit, a touring band and a joint venture with Concord Music Group for marketing and distribution. Check them out and support the great work they're doing. Awesome.
"Playing for Change is a multimedia movement created to inspire, connect, and bring peace to the world through music. The idea for this project arose from a common belief that music has the power to break down boundaries and overcome distances between people. No matter whether people come from different geographic, political, economic, spiritual or ideological backgrounds, music has the universal power to transcend and unite us as one human race. And with this truth firmly fixed in our minds, we set out to share it with the world."
Photo Movie of "Playing For Change: Peace Through Music" trip to Guguletu, South Africa (Township of CapeTown) where the PFC Foundation is building a new music school this fall that will connect students from there to others at established music schools.
As we made our way around the world we encountered love, hate, rich and poor, black and white, and many different religious groups and ideologies. It became very clear that as a human race we need to transcend from the darkness to the light and music is our weapon of the future. This song around the world features musicians who have seen and overcome conflict and hatred with love and perseverance. We dont need more trouble, what we need is love. The spirit of Bob Marley always lives on.

This is the fourth Song Around The World video released from the CD/DVD Playing For Change: Songs Around The World and the follow up to the classics "Stand By Me," "One Love" and "Don't Worry." This unforgetable track was performed by musicians around the world adding their part to the song as it traveled the globe.

Order the CD/DVD Playing For Change Songs Around The World" now at amazon.com!