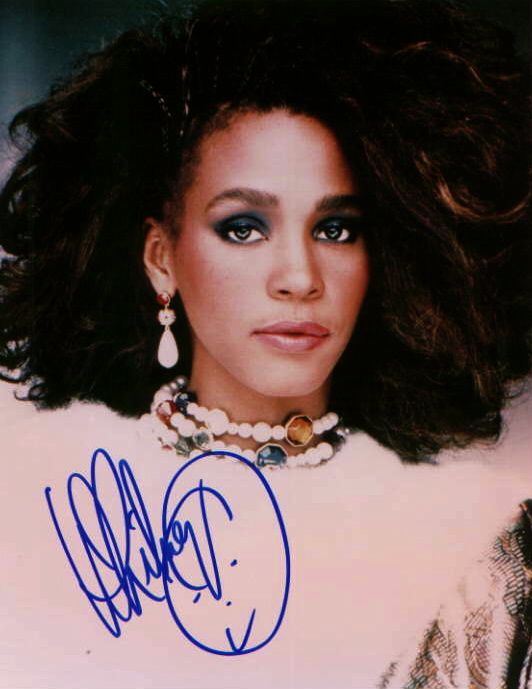 I am writing this 40 years too early…..She wasn't supposed to be gone. She was supposed to have her opportunity to have her full comeback, a true return to her glory. The type of comeback that would make all of her detractors shut up and recognize the greatness. But that wasn't in the cards. We just didn't realize that she would only be with us a short time, but thank God for the time that he did allow us to spend with his child Ms. Whitney Elizabeth Houston.
Past
At times like this, it is best to focus on the reason why Ms. Houston is important to us. For many, she is the woman who you grew up with. Her songs were so iconic and her influence was so far reaching that even now you can probably remember a major event that occurred in your own life during the release of "Run to You" or at the time that "Exhale (Shoop Shoop)" was released. Only a few people ever had the opportunity to come in direct contact with Ms. Houston, and an even smaller number of people knew the real Whitney Houston. I have heard that she was both extremely warm and had an amazing, down-to-earth sense of humor. You can see a display of both in the clip below.
In this clip die hard fan Quencie Thomas interviews Whitney. Whitney interacts so naturally with Quencie, as if they have been hanging out for years. The interview was arranged by MTV, but that doesn't matter. Whitney still could have chosen to either decline the interview or to be standoffish. She chose to do neither.
There are no pretenses here, and she even touches Quencie's hands and her back…….Who knew that Whitney loved to vacuum?
Whitney the Thespian
I loved Whitney as an actress.  In "Waiting to Exhale" she was so seamless and so natural as the girl waiting on a man who belonged to someone else to love her. In "The Preacher's Wife", she was just as convincing in a very different role, one in which she played wife, mother, and teased us with a friendship with a very handsome angel.
I was thinking about Whitney's career earlier this week, and the thought hit me that even in her short time on Earth, Whitney worked with almost everyone (in the vein of heavyweights in the music and film industries).  As an actress she worked with both Angela Bassett "Waiting to Exhale" and Denzel Washington "The Preacher's Wife". There are hundreds of professional actors that would love to work with either Angela or Denzel, and Ms. Houston had the honor of accomplishing a major film with both actors. Skeptics would say that both of these opportunities were solely due to her star power and projected box office power. While I am sure that may have been part of the initial thought process with regards to casting, in the end Ms. Houston proved to more than hold her own in her roles. She never overacted or underacted, she was relaxed and convincing in her portrayals. It should also be noted that neither Angela Bassett nor Denzel Washington accept movie projects idly (which is why we rarely see Ms. Bassett on screen). They welcomed working with Ms. Houston, and that speaks well of Whitney's character on set.

Present
If Whitney had been still with us today, a major announcement regarding her career was more than likely about to be made.  Simon Cowell confirmed that he was indeed scheduled to formally extend an offer to join the panel on the U.S. version of "The X-Factor" to Ms. Houston prior to her passing. We can continue to wonder "what if?"
In 2009 Ms. Houston mentored on the UK version of "The X-Factor", and this gives us an idea of how great of an addition to the show she would have been:
Future
The great news is that not only do we have Whitney's music to remember her by, but she also had worked on a new film project.  The remake of "Sparkle" was completed prior to Whitney's passing. The movie is currently scheduled for release in August of 2012. Here is Whitney in her own words speaking on the experience of working on "Sparkle":
In addition to "Sparkle", I would also love to see the release of one other project from Whitney. There is an unreleased documentary from 1999 entiteld "Whitney: Close Up", that looks to be very good.  It includes commentary to everyone from Whitney's assistant to her brother.  Here's the documentary trailer:
Going Home
Many different perspectives have emerged on Ms. Houston since her death. At the time that I type this tribute, it is reported that everyone from Mariah Carey to Stevie Wonder to Bill Cosby to Oprah Winfrey will be attending the invitation only home going service.  It has also been reported that her "Bodyguard" costar Kevin Costner will also be speaking at the service.  If nothing else, this showing of love speaks as much to Whitney's life as her music does. People are not attending the funeral because it is Whitney Houston. These are not spectators.
People are attending this funeral because they LOVE Whitney Houston. Believe me, I'm sure that Mariah, Stevie, Bill, Oprah and countless others could have found other ways to spend their Saturday afternoon. Each of these extremely busy people are choosing to rearrange their schedules to honor the memory of Ms. Whitney Elizabeth Houston. This is the time to ask yourself, if you passed away tomorrow, who would think enough of you to take time to celebrate your life?
I close this tribute with a video that encompasses Whitney today.  As you listen to the lyrics of "My Love Is Your Love", the song seems prophetic. Judgement day is now here.  I wonder what Whitney and the Lord are discussing?