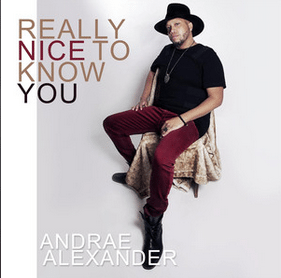 There's a little quirk that I possess that I haven't shared with many but I'm in the sharing mood today so here goes… When I listen to music for the first time music that really, really moves me I have a visceral reaction that produces a dichotomy that I can't explain other than to describe: Music that I love on first listen I immediately turn it off, often not making it much past the first chorus. Then after a minute or so of processing what I was just presented with I immediately begin a series of repeated listens with the goal of embedding the music into my being. Yeah I know I'm strange and I've made peace with it.
"Really Nice To Know You" hit me in the exact manner described above. I cannot tell you the joy I get when music like this hits the inbox. Call me biased but because I love beautiful chord changes, melodies that rise and fall in interesting ways and a compelling story what Andrae Alexander has put together is my kind of music. An instrumental solo? Yeah man it's in there.
"Really Nice To Know You" is an incredibly smooth and laid-back production, this is the vibe out summer night anthem you've been waiting for. Please press play. Please pass this on to the folks in your circle that appreciate musicianship and songwriting of this caliber. This isn't processed, this is the real thing.
From the press release…
Even though he may be a new name to you. ANDRAE is fast becoming one of the most in demand upcoming songwriter producers in the current music scene. He has 2 songs on the upcoming KEITH SWEAT album , as well as co-writes on 2 songs on the latest #1 album by K MICHELLE and a song recorded by JUSIE SMOLETT on the recent EMPIRE 2 Vol 2 Soundtrack.
iTunes link
https://itunes.apple.com/us/album/really-nice-to-know-you-single/id1130009672?ls=1&app=itunes
Credits:
Written, produced, arranged and performed by Andrae Alexander.
All instruments by Andrae Alexander

Ivan Orr is a multi-instrumentalist, composer, performer, and writer. A native of Charlottesville, Virginia Ivan was involved with the forming and nascent days of The Music Resource Center as its first Program Director. A graduate of Virginia Commonwealth University's Department of Music, Ivan currently resides in Richmond, VA where he maintains an active performance and production schedule while serving as the Music Editor for Grown Folks Music, a position he has held since 2010.