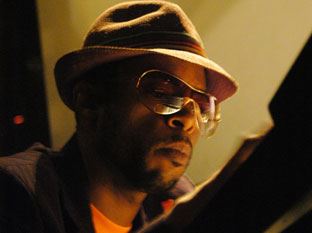 Here at GFM it is no secret that we embrace the philosophy of viewing great music as a whole and not solely through the narrow prism of genres. Genres can often limit and stifle creativity. So when presented with an artist whose body of work embodies the aforementioned credo, it's pretty much a no-brainer that they would garner our support.
Such is the case with Marc Cary whose collaborations in all musical genres across the board include work with Q-Tip, Stefon Harris, Meshell Ndegeocello, Dizzy Gillespie, Betty Carter, Arthur Taylor, Abbey Lincoln, Erykah Badu, Max Roach, Shirley Horn, Ani DiFranco, Wynton Marsalis and Roy Hargrove, among others.
His latest project Focus Trio Live 2009 recorded live at select festivals across Europe and the US , Focus Trio Live 2009 features Cary 's longstanding trio: on tabla and drums, Sameer Gupta and on bass, David Ewell, both of whom he met on the west coast. The project has been described as "…fusing together indigenous East Asian, Indian, African, and Native-American influences within the African-American blues and jazz traditions, as only a player with his undeniable talent can manage to do while simultaneously claiming new virtuosic territory."
Marc's label Motema Music is offering a free download of the song "Attachment" from the project. The link to the download and other info on Marc Cary can be found here.

Ivan Orr is a multi-instrumentalist, composer, performer, and writer. A native of Charlottesville, Virginia Ivan was involved with the forming and nascent days of The Music Resource Center as its first Program Director. A graduate of Virginia Commonwealth University's Department of Music, Ivan currently resides in Richmond, VA where he maintains an active performance and production schedule while serving as the Music Editor for Grown Folks Music, a position he has held since 2010.