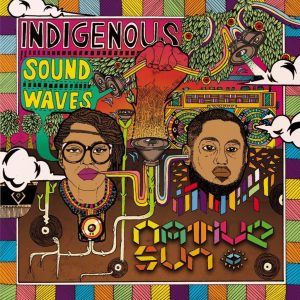 The recommendation is very, very simple here: this is a sound you need to get up on. You know how sound vibrates? Right? Where does that sound go when it leaves our immediate presence? Well, I'm a firm believer that the music doesn't just disappear, it continues to travel and connects with ears and hearts far from where the sound may have originated.
You want proof? Checkout this set Indigenous Soundwaves from Native Sun and you will hear the goodness of ghost of Hip Hop Past transported across the Atlantic and transmitted back to us with a freshness that is all 2012 complete with influences ranging from Afrobeat to Reggae but with a foundation that is certifiably Golden Era Hip Hop.
Shoutout to Kensaye for putting us on to this dynamic duo and make sure you check him out doing the thing on the track "Senses" as he holds down the production duties.
About Native Sun
Native Sun is a London based duo consisting of bilingual rapper Mohammed Yahya, born in Mozambique, South East Africa and singer-song writer Sarina Leah born in London with Caribbean roots.
Joining forces in 2010 Native Sun was born fusing Hip Hop and African rhythms with the aim of promoting a positive message of Universal Peace, Equality, Social Justice and Environmental Change.
Both artists over the years have received a great deal of publicity through collaborations on a variety of compilation CDs, Albums, International Tours across Europe, Africa and U.S, features of on a wide range of publications as well as TV appearances from UK based TV Channels such as BBC and ITV to Channels across Europe.
Now together, Native Sun's sweet melodies fuse addictive head bouncing Hip Hop undertones, conscious bilingual lyrics and catchy hooks perfect for a climate in need of an uplifting message.

Ivan Orr is a multi-instrumentalist, composer, performer, and writer. A native of Charlottesville, Virginia Ivan was involved with the forming and nascent days of The Music Resource Center as its first Program Director. A graduate of Virginia Commonwealth University's Department of Music, Ivan currently resides in Richmond, VA where he maintains an active performance and production schedule while serving as the Music Editor for Grown Folks Music, a position he has held since 2010.