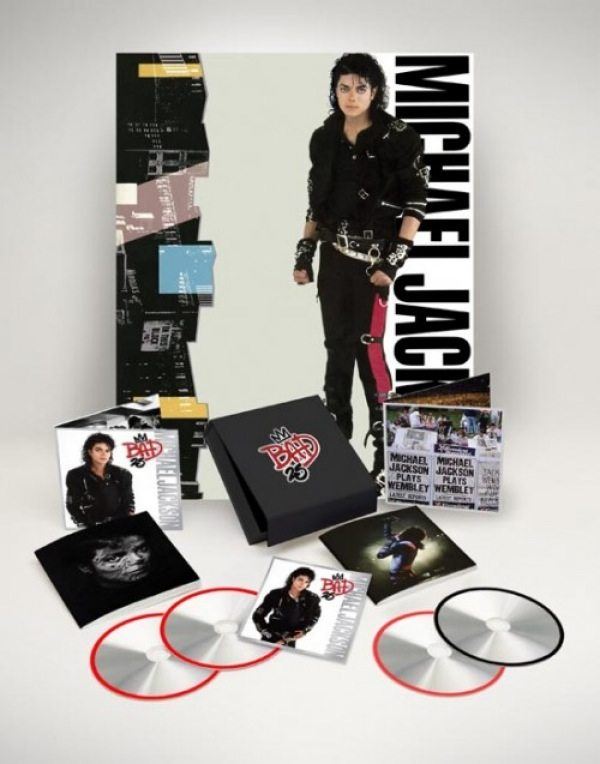 For all you like minded individuals who believe Michael Jackson was one of the greatest entertainers that walked the face of this earth, this message is for you and those who have yet to feel the power of "the force"! 🙂
Brothers and sisters in music, the moment has arrived for the magnificent unveiling of Bad 25!! This is an occasion to celebrate and do a "big mama run" down the aisle of somebody's Baptist church to give thanks to Jesus for this release of unreleased treasures.  Now let's give you the rundown of what to expect from the newest MJ re-release:
Bad25 Anniversary Edition 2CD: The 1st CD includes all the tracks from the 1987 release which are now re-mastered. The second CD will have 13 additional tracks that's never seen the light of day, 6 which are unreleased demo recordings created at Michael's Hayvenhurst studio during the BAD sessions.
Bad25 Deluxe Edition 3CD/1DVD: This package deal will include everything from the "Anniversary Edition" plus a live CD from the full concert performance from MJ's BAD World Tour at Wembley Stadium on July 16, 1988. For you live concert fans like myself, you will also experience the historic tour on DVD with two collectible photo booklets. Being a lover of concert photography and live music, this combo meal will be my personal option.
Bad25 Deluxe Collector's Edition: Ok GFM family, this buckled and zipped combo meal is only for a limited time or so they say.  A BAD themed case will include the following:
All content from the Deluxe Package
A 7-inch vinyl,
An exclusive T-shirt,
A  BAD Tour souvenir package
Now they mention a free download of the BAD remix by Afrojack featuring Pitbull if you pre-order now but in listening to the 1st few minutes of the single, there should have been a different carrot on the string. Nothing personal against either artist and yes, I believe in broadening your appeal but Michael is like yo' mama's Mac & Cheese during the holidays – it's an event and damnit, the recipe don't need to change –but I digress.
Michael Jackson Live at Wembley: This option is the start to finish DVD of the entire concert performance at Wembly. This is a good one to have on deck during family reunions, holidays and any other gathering of music loving friends.
So with all that said, you can make your MJ order at Michael Jackson's Official Store.

Hope is a music enthusiast and continual student of photography. Also known to rock out a quiet church or elevator with her current ringtone, Tom & Jerry's Uncle Paco, "Crambone".