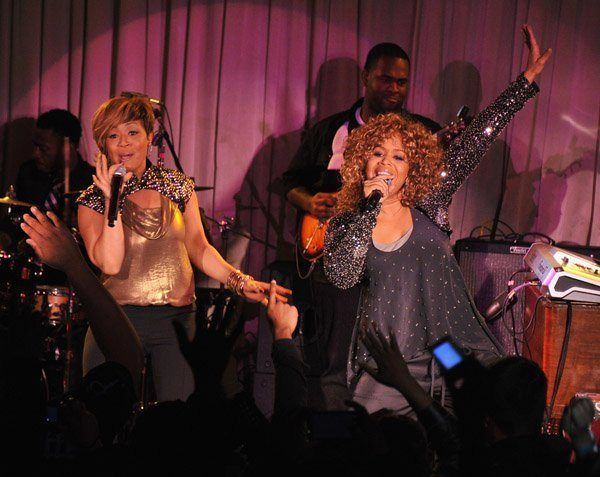 Nashville, TN— Just two weeks away from the release of their highly-anticipated new album, Something Big (March 29, Columbia Records/MyBlock Records), chart-topping sister duo Mary Mary continues to make a major impact on television, at radio, and across the web, with no signs of slowing down.
Following two standing-room-only live showcases on each coast (in New York City and in Los Angeles), Mary Mary performed their newest radio hit, "Walking," during the 42nd Annual NAACP Image Awards (FOX) at the beginning of March. This week, the award-winning duo wrapped a two-week national promo tour featuring several TV appearances, radio station visits, and meet & greet opportunities.
But if you think they might slow down a bit before their new album hits stores, think again.
Mary Mary has launched "Do Something Big," and a once-in-a-lifetime contest for their fans– "Fly Away with Mary Mary."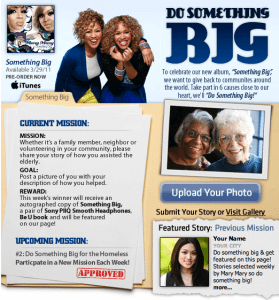 "Do Something Big" is Mary Mary's ambitious, six-part altruistic initiative that acts as the heartbeat surrounding the release of their upcoming album, Something Big. Mary Mary will host "Do Something Big" on their Facebook Fan Page, engaging fans to participate in a new weekly activity for 6 weeks to "do something big" for others. Each week focuses on a different segment of those in need– the elderly, the homeless, local schools, local neighborhoods and world hunger.
Beyond joining Mary Mary in their mission to make a mark on the world, participants will be eligible for prizes and giveaways. To partner with Mary Mary in the "Do Something Big" campaign, visit beginning March 17, 2011.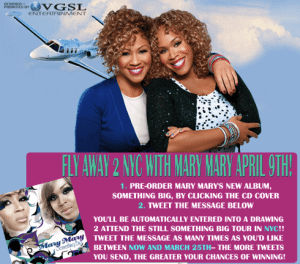 Simultaneously, Mary Mary has announced the nationwide "Fly Away with Mary Mary" Twitter contest, where 1 winner and a guest will be flown to New York City to meet Mary Mary and attend the April 9th tour date of the 'Still Something Big' tour featuring Mary Mary and BeBe & CeCe Winans, with special guest VaShawn Mitchell.
Fans can enter multiple times in this simple tweet-to-win campaign, increasing their chances of winning an all-expense paid trip for two, along with VIP access to the concert and a backstage meet & greet with the duo!
The "Fly Away with Mary Mary" contest runs from March 15-25, 2011. To enter, visit http://www.ILoveMaryMary.com.
Mary Mary's new album, Something Big, will be released on March 29th, but is available for pre-order now at iTunes and Amazon.com.