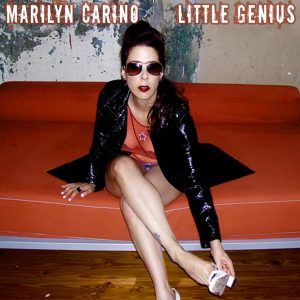 Marilyn Carino gained notoriety as the singing and songwriting half of Mudville. Her contributions to Mudville's three critically-acclaimed albums were lauded as "Nina Simone coming back from the dead to front Morcheeba" – her unique, moving voice hailed as "smoldering", "enchanting" and "otherworldly".
Written, performed, recorded and produced by Marilyn alone, the first product of her solo incarnation is "Marilyn Carino – Little Genius", being called, "An excellent record, brave and powerful, atmospheric and intimate." (Trippin' the Rift)
Her song "Wicked" won a 2008 Independent Music Award for best song. Marilyn's songs
have also been featured in the SyFy series "Regnesis" and in the feature films
"Slutty Summer", "Going Down in LaLa Land", and the upcoming "Vampires in Venice". Downloads available on iTunes, Amazon and other outlets around the web.
Check out the brand new video for "Monster Heavy"
Also, NYC GFM fam, Marilyn is performing at her release event this Friday Oct. 28th at 116 MacDougal at 8pm sharp, with 2 for 1 drinks the first hour.