This is one of the parts of the GFM Experience that I love the most… you know the part where you hear some great music that you just have to share with everybody and then, you hope that whoever you share it with shares it to so that the artist's visibility can rise. In the words of Chris Tucker's Smokey "You know how we do!"
We are hoping to highlight more of L*A*W's work here on GFM because we enjoy not only his musical stylings but his thoughts and respect for the music itself. That goes a long way these days when it seems that more people are into the money than the music.
"The Description" is culled from L*A*W's new album Tha Planet 12 Syndrome which you can purchase here.
From the press release…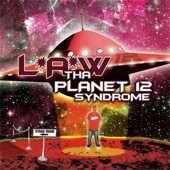 Greetings Earthlings !
THE WAIT IS FINALLY OVER !!!! Straight from the Amy Winehouse & George Clinton/P-Funk camp…After lending his many talents & over 21 licensed songs to various VH-1, Oxygen, Lifetime & popular MTV shows like "The Real World: Brooklyn & Hollywood", due to increasing demand, rapper/singer/songwriter/producer & multi-instrumentalist L*A*W's highly anticpated album "Tha Planet 12 Syndrome" has come out officially on ITunes, Amazon & all other digital stores !! Due to early leaks & promotion stemming from late last year, It has already gotten 5 star reviews from fans & gaining acclaim from the likes of Diane Warren, EPMD, Ledisi, Rosanna Arquette, Megan Mullally, Janelle Monae, Ice-T & many others !
Being the grandson of Blues/Soul legend The Late Sam "Bluzman" Taylor & Coming from one of the most famous families in music history as well as one of the biggest buzzes & greatest live stage reputations in the industry, This Brooklynite hood boy has been known to make Hip-Hop (Underground & commercial styles), Funk-Rock, R&B/Soul while embracing Country, Pop-Jazz & even Techno exist under one roof while at the same time balancing the commercial element & staying true to his underground roots. Not to mention his precise playing of 7 instruments & the perfect balance of killer vocal prowess in addition to serious rhyme & dance skill is winning new fans by the day at Twitter, Facebook & helped him reached over a million views & plays on My Space & around the world. With songs like the hot female anthem "With Your Heels On", the autobiographical "Stepdad", "Wishing U Were Here", "Get Hollywood On Em", "Naturally Sexy" & the song that got everybody talking "American Idol Sucks", This is set to be the most diverse album of 2010 !
Help spread the word in & outside the industry about The Most Talented Kid In The Music Biz ! 2010 marks the year that music with substance, value & genuine commerciality takes over…L*A*W is the artist & Planet 12 is the movement !
Ivan Orr is a multi-instrumentalist, composer, performer, and writer. A native of Charlottesville, Virginia Ivan was involved with the forming and nascent days of The Music Resource Center as its first Program Director. A graduate of Virginia Commonwealth University's Department of Music, Ivan currently resides in Richmond, VA where he maintains an active performance and production schedule while serving as the Music Editor for Grown Folks Music, a position he has held since 2010.