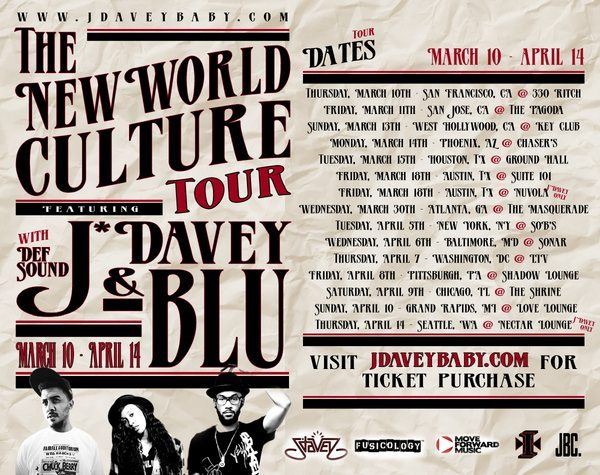 J*DaVeY & Blu Announce New World Culture Tour
Los Angeles-based New Wave Soul duo J*DaVeY, and Long Beach emcee, Blu, have teamed to bring the new genre-blending sound of the West Coast on the road with the New World Culture Tour. The 15-date trek will kick off in San Francisco at 330 Ritch on March 10th, and touch 7 West Coast markets – including Austin for a pair of performances at SXSW – and 7 East Coast markets, before wrapping up in Seattle at Nectar Lounge on April 14th.
The announcement comes on the heels of both artists' reemergence to the forefront of independent music scene, after a somewhat extended hiatus. J*DaVeY recently released their Evil Christian Cop EP, to rave reviews, as a warm-up to their long-anticipated sophomore album, New Designer Drug, slated for 2nd Quarter. Blu is gearing up for his own new release, NoYork! (Warner Bros.) which features production from Flying Lotus, Exile, Madlib, and Shafiq Husayn (Sa-Ra), and will hit stores this Summer.

The New World Culture Tour Dates:
Thursday, March 10th – San Francisco, CA @ 330 Ritch
Friday, March 11th – San Jose, CA @ The Pagoda
Saturday, March 12th – San Francisco, CA @ SOM – Black Morris DJ Set
Sunday, March 13th – West Hollywood, CA @ Key Club
Monday, March 14th – Phoenix, AZ @ Chaser's
Tuesday, March 15th – Houston, TX @ Ground Hall
Friday, March 18th – Austin, TX @ Suite 101 J*DAVEY & BLU
Friday, March 18th – Austin, TX @ Nuvola J*DaVeY ONLY
Wednesday, March 30th – Atlanta, GA @ Masquerade
Tuesday, April 5th – New York, NY @ SOB's
Wednesday, April 6th – Baltimore, MD @ Sonar
Thursday, April 7th – Washington, DC @ LIV
Friday, April 8th – Pittsburgh, PA @ Shadow Lounge
Saturday, April 9th – Chicago, IL @ The Shrine
Sunday, April 10 – Grand Rapids, MI @ Love Lounge
Thursday, April 14 – Seattle, WA @ Nectar Lounge – J*DaVeY ONLY
More Dates to be Announced…
You can download their latest EP here.
This tour is brought to you by Move Forward Music w/ support from Fusicology.