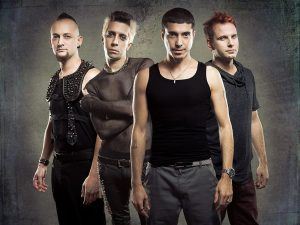 We wanted to put you up on the sounds of MANGA who hail all the way from Turkey. The band is in the States currently to attend CMJ so we thought it gracious host thingy to do to get you all to check out the sounds…
From the press release…
ISTANBUL, Turkey — maNga, the Turkish quartet have enjoyed a huge success in their homeland Turkey and now preparing to hit a homerun in the U.S. They plan to finish recording their debut English version full length album which is being mixed by the acclaimed Michael Patterson and will be released sometime in 2014. maNga's three infectious full length albums released in Turkey all have received huge critical acclaim, and a lot of International attention including over 3 million Facebook fans. They performed at the International Music Conference SXSW in Austin, TX earlier this year where over 600 enthusiastic fans and notable industry witnessed their highly energy driven and heavy voltage live show. It was at SXSW, where they were sought after by a U.S Management firm who ended up inking the deal to represent them World-Wide. TCI Management Consultants. This 4 piece quartet is made up of singer Ferman Akgül, guitarist Yağmur Sarıgül (aka "Yamyam"), drummer Özgür Can Öney and bassist Cem Bahtiyar.
The first single/video "Fly to Stay Alive" is released in America the week of CMJ, Oct 13-22nd This song was one of the first songs they actually recorded in English. MaNga's career really took off to new heights when they became the first official Turkish contestants in the world famous Eurovision Song Contest. They performed the English language song "We Could Be The Same ". After the massive exposure gained by Eurovision, they came in second place. Then came the Sony release of the single "We Could Be The Same" in Denmark and then the release of the "Fly to Stay Alive" video, which debuted on MTV Europe… After this turn of events…there was no looking back.
Now they have a shot in making it in America. Returning to NY for CMJ and then off to LA. The drummer Özgür says "I see us as an Anatolian band. We're just Turkish guys who grew up with Turkish influences who are playing Western instruments and cranking out some damn good music".
Website:
NY and LA Dates:
Friday, Oct 18th NYC, DROM at Midnight
Monday, Oct 21st, NYC, SOB's at 9PM
Thursday, Oct 24th LA, The Satellite at 10PM w/ TWENTY7