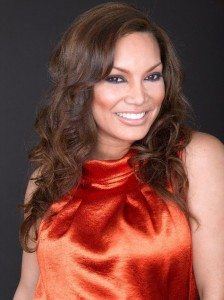 (New York, NY / Atlanta, GA – March 1, 2012) — 2012 is proving to be a year of change, growth and exciting new opportunities for nationally recognized TV host and top-rated radio personality, Egypt Sherrod.
As 2012 marks a year of great promise, it also welcomes new ventures. Egypt has accepted a position as the new midday host at Atlanta's #1 radio station, WVEE / V-103 (owned by CBS Radio). This move allows Egypt to connect with millions of listeners throughout the Atlanta metro area, while also giving her New York listeners and others nationwide a chance to tune into her daily radio show which will also stream online at www.v-103.com.
"I'm very excited about Egypt joining the V-103/WAOK-CBS Radio family. Egypt is one of the top air personalities in the country, and we look forward to her being a part of our TEAM," states Reggie Rouse, VP of Urban Programming for CBS Radio and Program Director for V-103/WAOK – Atlanta.
CBS Radio's Sr.VP/Atlanta Market Manager, Rick Caffey adds, "Egypt's talent, national appeal and professionalism is the perfect combination to compliment our current all star line-up and take mid-days to the next level."
Prior to accepting the position at V-103, Egypt (a 16-year broadcasting veteran) ended 2011 on a high note as one of New York City's top ranking midday radio personalities impacting millions of listeners each day with her popular radio program, "Middays with Egypt" which aired daily 10 am-3 pm. In less than two years, Egypt helped catapult the ratings for her daypart to #1 ranking among other New York City urban adult contemporary stations and #4 among all stations (in the adult 25-54 year old demo), across all formats in the "big apple" (according to Arbitron research data).
Egypt continues to expand her brand as the newest addition to HGTV's highly-rated network as the host season #8 of the hit series, "Property Virgins." She debuted on HGTV in January of this year with strong ratings week after week. Egypt's new duty has further broadened her audience appeal, and exposed them to her vast knowledge about one of her other passions and professions, real estate.
Egypt also expanded her acting resume by co-starring in "LIFE, LOVE, SOUL." This tragedy-to-triumph story of a seventeen-year-old honor student coping with the sudden death of his mother, played by Tami Roman, actress and star of VH1's hit reality show "Basketball Wives." In the film Egypt plays (Carrie) the "tell it like it is" sister to Tami Roman's character (Renee). "LIFE, LOVE, SOUL" recently won the 2012 "Audience Award" at the renowned Urbanworld Film Festival. The film also stars seasoned actors, Jamie Hector (NBC's "Heros" and HBO's "The Wire") and Terri Vaughn ("Meet The Browns," "All Of Us," and "The Steve Harvey Show").
In addition to her growing list of titles, Egypt's most exciting new role is having become a mommy January 12, 2012 with the birth of her daughter, Kendall Rae Jackson.
"It's hard to fully express how blessed I feel at this moment about everything that is coming to fruition in my career and personal life. Joining the CBS Radio family at Atlanta's #1 rated station V-103 which features not only top-notch on-air talent like Frank Ski & Wanda Smith, Ryan Cameron, Greg Street, but leadership by first-class executives with vision like Rick Caffey and Reggie Rouse is so refreshing!" stated Egypt. "Add to that my new hosting position with Property Virgins on HGTV, the most prominent acting role I've had thus far and the birth of my daughter, and I literally feel like I am on top of the world," Egypt added.
"Even after working with her for 16 years, I still marvel at how Egypt does such a phenomenal job of giving her absolute best to her thriving career, her family and her faith. She is a winner in every sense of the word! By Egypt joining powerhouse broadcasting outlets, CBS Radio's V-103 in Atlanta and HGTV, 2012 is already proving to be a year full of excitement and growth," added Amber Noble-Garland, Egypt's manager and CEO of I For Talent Management.
For more information on Egypt Sherrod, please visit www.EgyptSherrod.com, www.EgyptSaidSo.com, www.EgyptCares.org, Twitter.com/EgyptSaidSo, www.Facebook.com/EgyptSherrod.