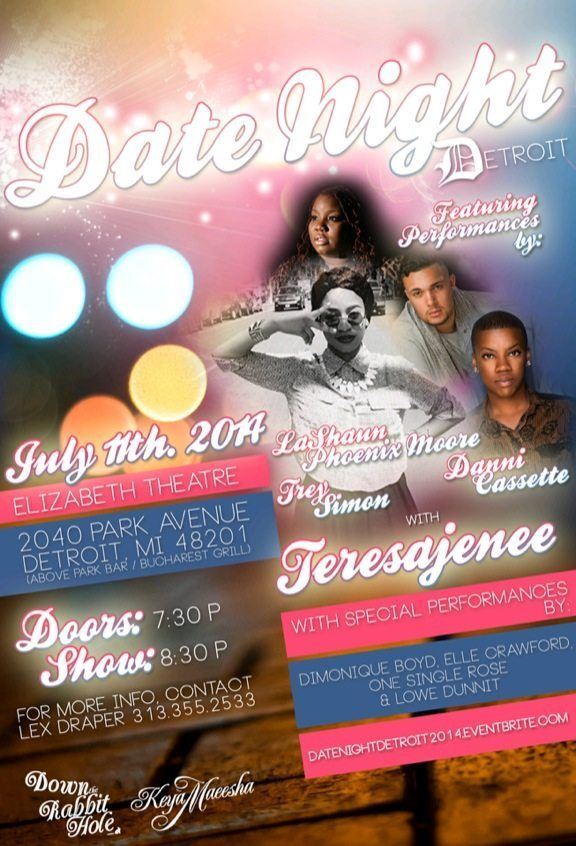 GFM fam in The D get ready!!! It's going down on July 11th 2014!
Date Night Detroit Info:
Join us for a night that is reminiscent of the perfect first date: music, spoken word, and comedy. To do this, we brought out the magic. Enjoy the sweet sounds and sultry voices of Teresajenee (STL) and Danni Cassette (ATL), add in some Detroit flavor with La Shaun phoenix Moore, Elle Crawford, and Trey Simon, ignite your sensuality with the spoken words of Dimonique Boyd and One Single Rose, and sprinkle in some good laughs with Lowe Dunnit. This is a night that you won't forget and do not want to miss. This even is not just for couples though. You actually might meet an unexpected summer love if you allow yourself to be open. Either way, this is a Date Night event that will surpass beyond your wildest dreams. This night is about you having an intimate experience with the arts–a date of sorts with your favorite (or soon to be) artists. So go on an book that babysitter, put the kids to bed, slip on that red dress and high heels, and enjoy a night that will ignite all five of your senses at once.
Event: Date Night Detroit w/Teresajenee, La Shaun phoenix Moore, Danni Cassette, Trey Simon & more!

Date: July 11, 2014

Location: The Elizabeth Theatre (above Park Bar), Downtown Detroit

Time: 7:30pm doors, 8:30pm show
Ticket link: http://datenightdetroit2014.eventbrite.com
Here are some videos of the featured artists:
Teresajenee: https://www.youtube.com/watch?feature=player_embedded&v=G2edzljgpEQ
La Shaun phoenix Moore: https://www.youtube.com/watch?feature=player_embedded&v=B8rqQya-_kk
Danni Cassette: https://www.youtube.com/watch?feature=player_embedded&v=W-CrXiFS4qs
Trey Simon: https://www.youtube.com/watch?feature=player_embedded&v=W87ATM-iLkU

Dimonique Boyd: https://www.youtube.com/watch?feature=player_embedded&v=Xm4l_yS-ui8

One Single Rose: https://www.youtube.com/watch?feature=player_embedded&v=3zMcKbWSnfc

Lowe Dunnit: https://www.youtube.com/watch?feature=player_embedded&v=fTW2lgG3-s0