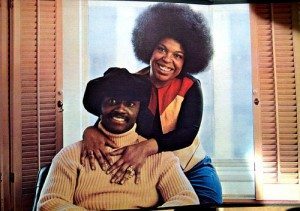 A bridge in popular music is defined as: an optional transitional period nearing the end of a song. Unlike typical verses, pre-choruses, and choruses, the bridge will only occur once in any given song, and is musically and lyrically different from the rest of the song. A bridge prepares for the return of the original material section.
Remember them? Well in case you need a little refresher I'll be posting some of my favorite from time to time to break some of the monotony of this often 4-bar loop to infinitude world we have to deal with from time to time.
Up first to kick things off is one of my favorite bridges of all-time. Roberta Flack & Donny Hathaway's cover of The Righteous Brothers hit "You've Lost That Loving Feeling". Weighing in at about 1:05 listen to how the section just builds to Donny's climactic note on the word love.
[jwplayer mediaid="21226″]
Obviously it can help if you're lucky enough to have musicians as great as Flack and Hathaway accompanied by ultimate groove masters Bernard Purdie and Chuck Rainey and the adept arranging of Arif Mardin on strings. When I listen to music like this I sometimes take on my old man on the porch mentality yelling at the kids on the street. I don't want anyone to be mimes of this music, it was a beautiful point in time, but can someone just take a lesson or two from what's going on here and put their own personal 2012 spin on it? Is it possible? I think it is, you just have to spend the time and be willing to go there: The Bridge.

Ivan Orr is a multi-instrumentalist, composer, performer, and writer. A native of Charlottesville, Virginia Ivan was involved with the forming and nascent days of The Music Resource Center as its first Program Director. A graduate of Virginia Commonwealth University's Department of Music, Ivan currently resides in Richmond, VA where he maintains an active performance and production schedule while serving as the Music Editor for Grown Folks Music, a position he has held since 2010.